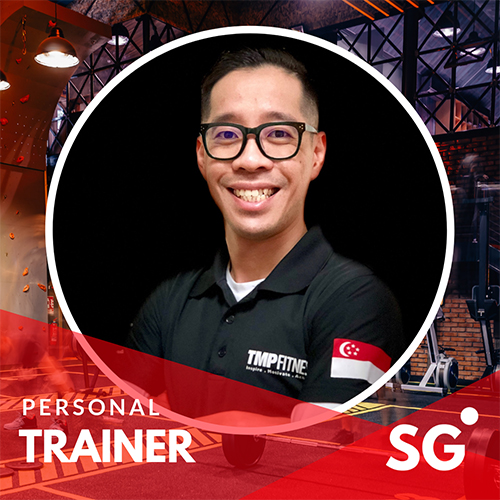 Thomas Chong
Personal Trainer
Thomas is a NASM International Certified Personal Trainer & Functional Training Specialist with over 10 years of experience in the Health and Fitness Industry. He graduated from Blackburn College, UK, with a Diploma in Sport & Exercise Sciences in 2011. As a Certified Clinical Orthopaedic Manual Therapist (COMT) and a Rehab Elite Trainer (Australia), he has been a highly sought after trainer by doctors, families, athletes and professionals from ages 8 to 82 years old with chronic or acute pain, performance issues, movement dysfunctions and postural disorders. He was also an endurance athlete, winning medals under his belt from ultra-marathons.
Thomas is the Founder of MADABOLIC EDGE, with a Mission of Making a Difference, Empowering & Transforming Lives – essentially a catalyst to challenge each individual to live their dreams to reality, creating & delivering endless experiences together. More recently, his collaborations with Sports Physician from Thomson Medical Group, General Practitioner from Novena Medical Centre, Chiropractor from Arc of Life Chiropractic, and Registered TCM Practitioner value adds to his professional services. This provides an One-Stop Service Solution catering to individual needs, integrating Mind and Body as One, unleashing the hidden potential in them!
Thomas conducts Corporate Wellness Talks on Pain Management and Specialised Programmed Bootcamps and believes that "Functional Training is the Strategic Foundation for Postural Corrective and Solution to any Movement Dysfunctions." Coupled with his years of experience with clinical orthopaedic manual and restorative therapy treatments, he has seen many athletes – from bikini competitors, bodybuilders, crossfitters, marathoners, triathletes to special population from sedentary elderly to children with walking gait related issues, to acute/ chronic shoulder, back or knee problems to pre-post medical injuries.
Thomas is also a pre-& post-natal trained exercise specialist where he strongly believes "Beauty within all Ages" even after birth. He strives to empower all his clients with a Positive Attitude towards an Altitude of Transformation Journey to Age Gracefully in Style!
Job Title
Manual Therapist / Personal Trainer
Employed with
Thomas Chong
Links
Skills
Qualifications/Certifications
Diploma in Sport & Exercise Science (Blackburn College, UK)
National Academy of Sports Medicine (NASM) International Certified Personal Trainer
Asian Academy for Sports & Fitness Professionals (AASFP) Certified Personal Trainer
Cardiopulmonary Resuscitation + AED Certified (Singapore Heart Foundation)
Certified Exercise Is Medicine, Singapore (EIMS) Clinical Fitness Professional
TriggerPoint Therapy Certified Master Trainer
ProBar Mobility System Certified Master Trainer
Certified R.E.H.A.B Elite Trainer by Rehab Trainer Australia
Certified R.E.H.A.B Trainer Essential and Masterclass & Rehab Fx by Rehab Trainer Australia
Certified R.E.H.A.B Practitioner
Certified SMART TOOLS Practitioner – Instrument Assisted Soft Tissue Mobilization (IASTM)
Certified Clinical Orthopaedic Manual Therapy (COMT) – Neck / Upper and Lower Extremities / Thoracic Spine & Rib Cage / Joint Mobilisation of the Spine / Low Back and Pelvis
Manual Medicine Level 1 Myofascial Dry Needling and Cupping for Treatment of Somatic Dysfunction Certified Practitioner
Manual Medicine Level 2 Advanced Needling & Electrotherapy Certified Practitioner
Functional Movement Group M.A.T Screening Method with Functional Treatment & Training Certified
Functional Movement Screening (FMS) Certified Practitioner Level 1 & 2
Functional Trainer Certified by Australian Sports
Kinetic Link Certified Trainer Level 1 & 2 – Advanced Programs and Coaching by Australia Sports
Certified Functional Fascia Taping Level 1 & 2 by FFT Institute
Certified Introductory & Advanced Sports Taping
Sanctband Advancement Programme for Rehabilitation & Fitness Certified
Barefoot Training Certified Specialist Level 1 & 2 by Evidence Based Fitness Academy (EBFA)
BodyReading MasterClass Certified – Anatomy Trains
Resilience: Taking the Strain & Coming Back Stronger –Anatomy Trains
Primal Movement Chains – Stop Chasing Pain
Certified BootCamp Senior Instructor and Mentoring Program Level 1 & 2
MetaFIT Bodyweight HITT Certified Training Instructor
Beyond The Basics: Shoulder & Knee Secrets by CERF Global
Fat Loss Specialist by Australian Strength Performance
Nutrition Specialist for Physique Athlete
Sanctband Advancement Programme for Rehabilitation & Fitness Certified
The Ultimate 6 Plus Certified – Trigger Point Performance Therapy
Biomechanics & Quality Selection of Athletic Footwear Certified, Podiatric Sports Medicine
Certified Beep Tester Instructor (VO² Max Testing)
Certified CrossCore 180 Trainer
Certified FreeMotion RIP:60 Trainer
Certified Pre And Post-Natal Trainer
Certified ViPR Instructor
Speciality Training
Clinical Orthopaedic Manual Therapy Treatments- Pre-Post Operation / Sports Injury Rehabilitation
Functional Training / Functional Movement Systems
Athlete Sports Performance / Endurance Sports
Body Transformation – Fat Loss Bootcamps