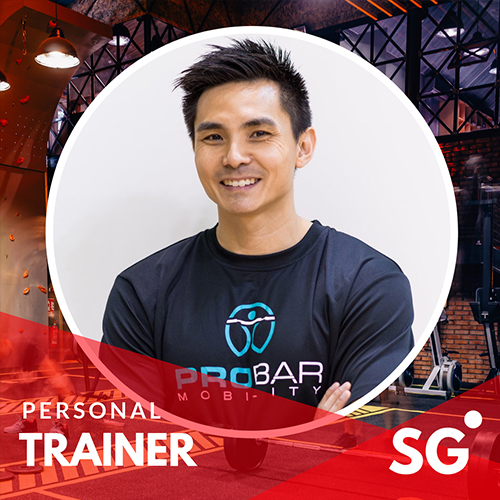 Darren Stephen Lim
Personal Trainer
Darren is the founder and Master Trainer of D'Fitness Pte. Ltd., with more than 15 years of experience in the industry, as well as a competitive fitness model. Darren was sickly as a child and even through National Service. He first started engaging in sports during his teenage years, which sparked his initial interest in fitness. Deciding to take this interest a step further, he took the plunge to get certified as a Personal Trainer in Singapore. Learning from the greatest fitness educators across the globe the past decade has since changed his life, and he now wants to be able to communicate this knowledge to his clients and to society as a whole.
Job Title
Head Coach/Trainer
Employed with
D'Fitness Pte. Ltd
Links
Skills
Qualifications/Certifications
NASM Certified Personal TrainerProBar Mobility Master Trainer
EXOS Performance Specialist
Procedos Certified Trainer
SPIDERfit Kids Trainer
Certified Power Plate Trainer (CPPT)
Certification In Applied Functional Science (CAFS)
Stretch Therapy Teacher Intensive A
Movement Analysis & Performance System (3DMaps)
Basic Exercise Course (SSC)
Core Course (Fisaf)
Precision Nutrition Level 1
Sports Nutrition: Optimizing Client Performance (D.Adair)
Bodyweight Athlete Program (Mike Fitch)
Certified Animal Flow Instructor
Revolution Running
Anatomy Trains
PIASTM (Pediatric)
IASTM M2T Blade
FMS Level 1&2
ASCA Level 1 Olympic Lifting For The Fitness Pro (CWL)
Training The Pregnant Athlete Modern Post Natal Assessment & Exercise Prescription (Burrell Education)
Fat Loss Specialization (ASP)
Allied Health And Exercise Professional (EIMS)
Senior Boot Camp Fitness Instructor (Start Fitness)
Thump Boxing Instructor Level 1,2 and 3
3-Day Mentorship: Assess, Regress, Progress Your Clients
(Human Motion Associates)
TRX (STC, GSTC, SMSTC, FTC, RTC)
ViPR Certified Trainer
ViPR LMT 2
ViPR Pro Fundamentals Mobile
Certified Program Design Specialist (NSPA)
Ignite 360 Performance
Combine 360
Women's Fitness Specialist (NASM)
Twist Methods (Functional Training 101, The Art Of Fascial Line Training 301)
Certified Speed & Agility Coach (CSAC)
High School Strength And Conditioning Specialist (IYCA)
Achievements
Fitness Best Asia Awards 2017- Shortlisted for Best Male Personal Trainer of the Year
World Beauty Fitness & Fashion (WBFF) 2014 Miami – Top 5 Fitness Model
NutriShred 2014 – Master Trainer for transformation completion of 14 contestants in three months
Nutriman 2013 2nd Runner-Up
Cleo Bachelor 2009 – Magazine Cover Bachelor, Most Made for Stardom Award (Contract with Fly Entertainment)
Singapore Manhunt 2009 – 2nd Runner-Up, Mr Popularity, Mr Fabulous Tan, Mr Fitness
Best Recruit (Army)
Best Physical Trainee (Army)
Professional Experience
Apr 2017 – Current
Personal Trainer
Google HQ (APAC)
Assess individuals or groups on their progress.
Develop safe and effective exercise programmes for clients.
Explain exercise modifications and contraindicated movements to clients with a history of injury.
Jan 2011 – Current
Director/ Master Trainer
D'Fitness Pte. Ltd.
Determine and monitor the company's strategic objectives and policies.
Take a personal Interest in the mentoring relationship of our trainers with the need to feel invested in their
success. In turn empowering them to develop their strengths, beliefs, and personal attributes.
Measure clients' overall fitness by completing comprehensive evaluations and physician clearances. Work
with clients young and old to improve their overall endurance, strength, flexibility and balance.
Design customised client programmes to meet individual fitness needs.
Create personal training programmes that address specific injuries or health problems.
Oct 2001 – Jan 2011
Personal Trainer
Freelance
Assessed individual progress and suggested appropriate changes.
Developed safe and effective exercise programs for clients.
Explained exercise modifications and contraindicated movements to clients with a history of injury.